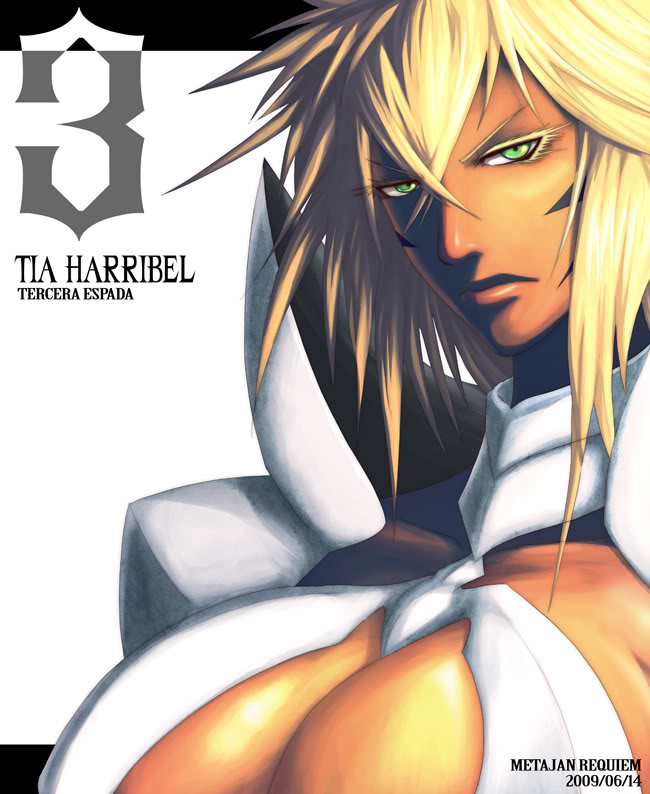 Basic Information

Name:
Tia Harribel
Nickname
: Tercera Espada
Gender:
Female
Age:
Unknown
Looks:
Spoiler:
Personality:
In contrast to the majority of her fellow Espada, Harribel is calm, taciturn, level-headed and analytical, preferring not to engage in combat; she is content with silently observing both parties until the fighting reaches its conclusion, and refuses to fight unless she or her Fracción are challenged or ordered by her superiors (excluding Baraggan, sharing her history with him). She strongly opposes the notion of killing others, especially if done to gain power. However, when she is betrayed by Aizen, Harribel angrily attacks him, showing that, while rare, Harribel can be quite aggressive and brutal. Unlike most of her comrades, Harribel does care for her Fracción, as she is noticeably upset when she senses their presences fading and angrily assaults Hitsugaya seconds after their defeat at the hands of Captain-Commander Yamamoto.
She views Aizen and his powers in high regard, which appears to be reciprocated by Aizen to a certain extent, as he seems unconcerned with the prospect of his top three Espada fighting a numerically-superior force led by six Shinigami captains without his aid. Whenever she is present, Aizen usually greets the group with words such as "ladies and gentlemen of the Espada" or "brothers and sisters", presumably for her exclusive benefit, as she is the only female.
Harribel's gender and associated rank in the Espada occasionally draws the unwanted attention of other people; Nnoitra Gilga attempts to provoke her into attacking him with a sharply-worded comment during the Espada meeting. She also catches the eye of Captain Shunsui Kyōraku, to the point of him mentioning his (rather positive) opinion of her abilities to his opponent.
Special Info:

Powers & Abilities

Rank:Espada Rank (If Espada):
Tercera Espada
Zanpakutou Name:
Tiburón
Zanpakutou Release Command:
"Destroy"
Zanpakutou Description:
Tiburón (皇鮫后 (ティブロン), Tiburon; Spanish for "Shark", Japanese for "Imperial Shark Empress"). In its sealed state, Harribel's Zanpakutō, while not particularly long, is unusually wide and has the distinction of being completely hollow in the middle, essentially consisting of nothing more than the edges of what would otherwise be a normal sword. Its handle is purple and its guard is as wide as its blade, with three small holes on either end that Harribel uses to unsheathe it. Oddly, the sword is longer than its sheath. It is worn horizontally on her upper back.
Resurreccions Description
:When releasing her Zanpakutō, she holds it with an outstretched arm in front of her with the blade pointing down and declares the release command. She is then completely enveloped by a heart-shaped surge of water that closes around her to form a cocoon-like cyclone which Harribel then cuts herself out of. In this form, all of her clothes are gone, as well as her Espada tattoo. The Hollow fragments she has in her sealed state become a collar with extensions that cover her nipples, in addition to spaulders on her shoulders with two ribbon-like protrusions on her back that bare a resemblance to shark fins. A thin, spine-like structure also forms on her stomach, spanning from her waist to the underside of her breasts. Harribel now wears a mini-skirt consisting of bones that appear to surround a dark undergarment. She wears a pair of knee-length boots and elbow-length gloves as well. Her weapon takes the form of a broad pata, which resembles an elongated shark tooth, featuring an unusual hilt with a hand guard that completely covers her hand. The sword also possesses what appear to be gill markings along either side of the blade. Harribel loses her three braids, making her hair become messy, and gains two blue lightning bolt markings on both sides of her face.
Resurreccions Special Abilities
: In this form, Harribel's speed and strength increase immensely.
* Water Manipulation: Her primary ability in this form is the creation and manipulation of water.[42] The water used for her attacks is generated by the gill-markings on her blade.
* Hirviendo (灼海流 (イルビエンド), Irubiendo; Spanish for "Boiling", Japanese for "Burning Current"): Harribel points her blade out and instantly boils any form of water that comes close to it, including ice, and deflects it around her.
* La Gota (戦雫 (ラ・ゴータ), Ra Gota; Spanish for "The Drop", Japanese for "War Drop") Harribel is able to condense large amounts of water around her blade before firing it as a blast that resembles a shark tooth. She has also demonstrated the ability to fire multiple blasts in rapid succession with relative ease. The blasts strike with enough force to demolish houses.
* Cascada (断瀑 (カスケーダ), Kasukeda; Spanish for "Waterfall", Japanese for "Cutting Waterfall"): Harribel launches a rushing surge of water at her enemy. The torrent of high pressure water is large enough to cover several town blocks.
Background Info.
History
:
Spoiler:
OtherPicture[s]
:
Spoiler:
Resurrecion Picture: